User:Giggsy
From Fallen Sword Wiki
giggsy
Joined:
25/Feb/2007
Name:
giggsy
Guild:
Mermaid knights
Guild Title:
Sunburned Manfish
Allies:
CelticKing, sigiloso, SkyWizard, grenas, myssymouse, OrinJaxx, Kementine, Mandrayk, JetPerfect, xylund, Helst0rm, Ilmandir, LittleJom, Shadow30, Slocum, JanMStar
Enemies:
none
Medals:
medals
Auction House:
current auctions
This page is a Player's Profile Page. It is generally considered unethical to edit a player's profile pages unless you have received permission from that player.
giggsy's Biography
giggsy is a member of Mermaid knights guild, after leaving The white dragon at level 290 in May 2008 in a difficult move, leaving many friends behind. He is also known as 'The Sunburned Manfish with the Don King Haircut', a named coined by Helst0rm. giggsy also is a member of the Mermaid Knights faction in SigmaStorm2, also overseen by HCS.

-- In 2008, giggsy was ranked in the top 500 players in the game and top 35 players that joined in Feb 2007, and reached level 400 in December.
-- On 21 June 2009, giggsy reached the milestone level 500 (ranked 582 in the game and 31 for his join month on that day).
-- On 29 November 2009, giggsy reached the milestone level 600 (ranked 476 in the game and 25 for his join month on that day).
-- On 04 May 2010, giggsy reached the milestone level 700 (ranked 444 in the game and 21 for his join month on that day).
-- On 20 Jan 2011, after taking a break to rehydrate, giggsy reached the milestone level 750 (ranked 828th in the game 21 for his join month on that day).
giggsy's full body centerfold shot
Please send me a fsp if you enjoyed this photo
giggsy's buffs

I do not have any specific buff packages or discounts, but if you buy 3 buffs or more I will also give some discount. Also, if you buy buffs from me on a regular basis, I will discount further.
Giggsy's Gigglers
Giggsy's Gigglers is the official giggsy fanclub. Each member gets a Giggler number in the order that they signed up, and each member is allowed to choose their own giggler quote.
Giggler#1 = Helst0rm "I was a Giggler B4 being a Giggler was cool!"
Giggler#2 = Shadow30 "He swept me off my feet, made me giggle *huggles for giggsy*"
Giggler#3 = Alusinki "I was a Giggler B4 being a Giggler was cool! :P"
Giggler#4 = beosyn
Giggler#5 = Roan "Before meeting Giggsy I was a dumb little kid... but, with Giggsy by my side, I grew in a nice and friendly little Giggler!"
Giggler#6 = JetPerfect
Giggler#7 = Merevelle "I became a giggler because he flippin eats "actual" giggles...uncanny..."
Giggler#8 = Lonstrwolf "I have always been a giggsy's giggler, from way back, thanks for making it official"
Giggler#9 = Ilmandir "Giggity, giggity, giggity, aww right!"
Giggler#10 = zig951
Giggler#11 = Shaydeling

see Helst0rm or Shadow30 to join the fanclub
giggsy's monkey
Helst0rm: Giggsy, I touched the monkey... I feel dirty inside, is that how I'm supposed to feel?
giggsy: Yes you should feel dirty, but also satisfied.

Special Recognitions
Winner Bronze Medal for Most XP Overall and Silver Medal in the Epic Class (lvl 200+) in the The White Dragon Leveling Tournament 2008!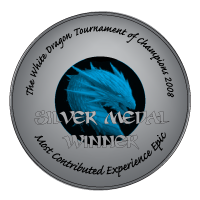 FallenSword medals: Loyalty (Gold), Adventurer (Silver), Annual Service (Bronze)