Guild:Nightstalker Guild
From Fallen Sword Wiki
Our Home Page : Message Us :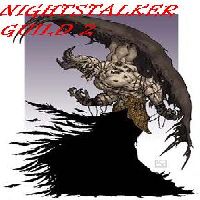 We are always recruiting players level 35 and above. Must be very active and contribute XP and gold. Fsp is optional. When we are full we require 20 fsp or 1,500,000 gold to join. We have guild sets Ranging from levels 15 to levels 300.
We may not be the in the top 250 guild or the richest guild, but we work together. Soon to be among the top 250 guilds.
OUR STRUCTURES
Structures (13/13)

Type	Level	Upkeep 


Battle Totem [ ? ] 18 3,749

Health Shrine [ ? ]	13	

1,682

Endurance Shrine [ ? ]	2	

2,400

Thieves Guild [ ? ]	2	

150

Weaponsmith [ ? ]	13	

4,141

Shrine of Pain [ ? ]	4	

675

Tranquil Retreat [ ? ]	6	

640

Blade Master [ ? ]	6	

1,120

Training Room [ ? ]	10	

1,360

Sustain Shrine [ ? ]	5	

2,343

Crafters Workshop [ ? ]	4	

960

Fury Shrine [ ? ]	2	

1,500

Guild Registrar [ ? ]	3	

2,205

Our Members: Username Level Rank Contrib. XP
[Online] nimblesbee 147 Guild Founder 6,836,030
[Offline] meuglynerd 80 Head Co Founder 1,024,648
[Offline] Mikelarry 101 Head Co Founder 118,555
[Offline] pyro613 37 Head Co Founder 100,415
[Offline] bluebomb 77 CO FOUNDER 745,885
[Online] Tazzino 45 CO FOUNDER 194,023
[Offline] ungez 91 CO FOUNDER 1,506,698
[Offline] Valtab 75 CO FOUNDER 832,145
[Offline] Luthynekar 83 Battlemaster 993,595
[Offline] EvilEyevan 125 Keeper of Avernus 1,950,231
[Offline] Gemotopia 101 Keeper of Avernus 2,053,995
[Offline] xdansolo32 93 Keeper of Souls 1,629,773
[Offline] Tito1 90 Keeper of the Ninth Gate 1,404,523
[Offline] Aldevario 84 Yawgmoth Demon 1,150,404
[Online] Curse2 85 Yawgmoth Demon 1,222,390
[Offline] Ezekial69 73 Woebringer Demon 787,180
[Offline] gutterball 65 Havoc Demon 519,838
[Offline] Qleixin 66 Havoc Demon 568,487
[Offline] StewC56 67 Havoc Demon 581,093
[Offline] rling27 64 Grinning Demon 506,285
[Offline] Artys 54 Demonic Horde 310,190
[Offline] BCChaotic 59 Demonic Horde 331,307
[Offline] jeredina 87 Demonic Horde 375,278
[Offline] Cerjohn 51 Severed Legion 256,411
[Offline] Paladinion 50 Severed Legion 236,120
[Online] williamsin 51 Severed Legion 212,412
[Offline] arutuf2004 45 Lord of the Undead 161,750
[Online] citr3x 58 Lord of the Undead 191,607
[Offline] lolfrate 44 Lord of the Undead 160,747
[Offline] MattMann 56 Lord of the Undead 171,423
[Offline] petes114 45 Lord of the Undead 181,797
[Online] cloudraker 43 Infernal Caretaker 150,890
[Offline] DarkVH 48 Infernal Caretaker 167,722
[Offline] UrFallen 45 Infernal Caretaker 167,816
[Offline] William319 42 Infernal Caretaker 150,198
[Offline] Daruga21 88 Grave Defiler 134,311
[Offline] kendra1279 42 Grave Defiler 128,416
[Offline] ZanChar 42 Grave Defiler 146,640
[Offline] glimmerati 39 Gloomdrifter 114,883
[Offline] Tokebi 37 Crypt Champion 98,126
[Offline] XElite 36 Crypt Champion 90,637
[Online] bdkid1212 35 Corpse Harvester 82,554
[Offline] Sarumian 35 Corpse Harvester 81,501
[Offline] Tramaghost 34 Corpse Harvester 77,464
[Offline] arutuf 33 Carrion Feeder 69,569
[Offline] DejanD 33 Carrion Feeder 68,080
[Online] dragonplyr 33 Carrion Feeder 66,624
[Offline] gomer1 33 Carrion Feeder 69,211
[Offline] slasher361 44 Carrion Feeder 60,568
[Offline] Chewychew 31 Cadaverous Knight 56,403
[Offline] HappyDan 34 Cadaverous Knight 59,680
[Online] ajay3672 38 Cackling Fiend 52,571
[Offline] dany008 34 Cackling Fiend 50,403
[Offline] deannadea 33 Cackling Fiend 46,493
[Offline] moistman 30 Cackling Fiend 48,728
[Offline] taigar 27 Cackling Fiend 40,530
[Offline] 04johnsonc 26 Boneknitter 35,487
[Offline] annubiss 27 Boneknitter 36,849
[Online] ArFeiniel 30 Boneknitter 37,715
[Offline] Clumsy 27 Boneknitter 38,646
[Offline] harhar713 29 Boneknitter 37,252
[Offline] hiddenone 28 Boneknitter 32,388
[Offline] jofred915 33 Boneknitter 43,751
[Offline] magicuser7 27 Boneknitter 39,896
[Offline] MikeDawg 25 Boneknitter 32,484
[Offline] sinkiller5 29 Boneknitter 38,527
[Offline] amber07 25 Soulless One 25,641
[Offline] Grape2o 25 Soulless One 28,351
[Offline] isobar 25 Soulless One 29,865
[Offline] Skratter 25 Soulless One 25,297
[Offline] tompalus1 25 Soulless One 27,934
[Offline] Gojira31 25 Gleamcrawler 21,395
[Online] Manthicore 30 Gleamcrawler 25,764
[Offline] SirSzyjka 24 Gleamcrawler 22,391
[Offline] vavarhoom 58 Gleamcrawler 22,174
[Offline] venom256 24 Gleamcrawler 24,545
[Offline] 150905 45 Woodwraith Corrupter 22,347
[Offline] DaggerDude 23 Woodwraith Corrupter 16,442
[Offline] executed3 21 Woodwraith Corrupter 15,519
[Offline] gurualec 23 Woodwraith Corrupter 18,881
[Offline] jaruri3 21 Woodwraith Corrupter 16,605
[Offline] kaykaykay7 23 Woodwraith Corrupter 17,452
[Offline] kazador95 22 Woodwraith Corrupter 18,249
[Offline] kevenloo 24 Woodwraith Corrupter 17,333
[Offline] Kikidou 24 Woodwraith Corrupter 18,139
[Offline] master8899 22 Woodwraith Corrupter 16,286
[Offline] miesje 24 Woodwraith Corrupter 19,281
[Offline] shabong666 36 Woodwraith Corrupter 19,281
[Offline] 2Xtream 22 Woodwraith Strangler 12,866
[Offline] ipsl 22 Woodwraith Strangler 13,485
[Online] JakSpratz 29 Woodwraith Strangler 21,025
[Offline] sparda95 19 Woodwraith Strangler 11,350
[Offline] zackcat911 20 Woodwraith Strangler 10,357
[Offline] ShadeRaid 19 Bog Wraith 9,428
[Offline] donj94 20 Street Wraith 6,899
[Offline] dzamal 31 Street Wraith 6,330
[Offline] Kirb 18 Street Wraith 5,948
[Offline] ShadowXen 38 Street Wraith 9,563
[Offline] spongeman 17 Street Wraith 7,544
[Offline] steward232 17 Street Wraith 6,793
[Offline] BloodLusk 17 Odylic Wraith 3,614
[Offline] Nubcakes 15 Odylic Wraith 4,574
[Offline] skully999 25 Odylic Wraith 4,627
[Offline] Strongman 19 Odylic Wraith 2,610
[Offline] eternyking 17 Dirtwater Wraith 2,064
[Offline] evilforce 81 Guild Founder 844,510
[Offline] dkjas 39 Cadaverous Knight 88,643
[Offline] rykelsama 33 Cadaverous Knight 54,323
[Offline] Starbug 30 Cadaverous Knight 48,222
[Offline] zionken 37 Cadaverous Knight 93,522
[Offline] Archimagas 28 Cackling Fiend 39,685
[Offline] AthelasK 27 Gleamcrawler 34,343
[Offline] weeerneer 27 Gleamcrawler 35,859
[Offline] Nobuhiro 19 Woodwraith Strangler 13,783
[Offline] ploi 24 Woodwraith Strangler 19,340
[Offline] glitchi 14 Odylic Wraith 3,061
[Offline] ihc 14 Odylic Wraith 3,522
[Offline] jph123 24 Odylic Wraith 4,942
[Offline] XsoXis 15 Odylic Wraith 3,252
[Offline] CatsMaster 18 lost soul 38
[Offline] dg177 11 lost soul 610
[Offline] Kleepto 11 lost soul 404
[Offline] SkyRanger 12 lost soul 116
[Offline] slayer0 14 lost soul 46